This flavorful chicken dish pairs well with most sides! We suggest our Arroz Amarillo or Frijoles Negros.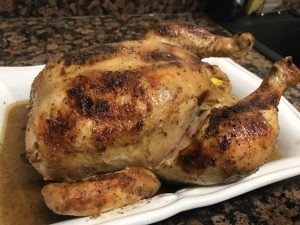 Whole Chicken (Medium size)
1 stick butter melted (unsalted if you have it)
¼ Cup Oil (we suggest Olive Oil)
¼ Cup Marliss® Mojo Seasoning
1 Lemon (Cut in half)
1 Head of Garlic (Cut in half)
---
Directions
Step 1

Preheat oven to 425°.

Step 2

In a heat resistant dish melt butter, add oil, Marliss® Mojo seasoning and the juice from 1/2 of the lemon. Mix well.

Step 3

Rub down the entire chicken with the halved garlic head and set garlic aside.

Step 4
In a large baking dish, (with a rack) pour ¼ of the butter mixture, rub the chicken, flip over and do the same to the other side. Next pour ¼ into the cavity and rub in. Pour the rest under the skin wherever you can.

Step 5

Squeeze and place the remaining half of the lemon and the head of garlic into the cavity of the chicken. Tie the chicken legs together and tuck the wings underneath the chicken. Set on the rack breast-side up.

Step 6

Roast, covered with foil, for the first hour. Next uncover for the last 15 minutes. Basting halfway through cooking time, until juices run clear, when chicken thigh is pierced with a skewer. Baste again, then broil for a further 2-3 minutes, until golden and an internal temperature of 165° has been reached.
Serve with Marliss® Arroz Amarillo and Marliss® Frijoles Negros.