A vibrant arroz amarillo makes a vivid setting for our Mojo Baked Chicken. Enjoy this classic tonight!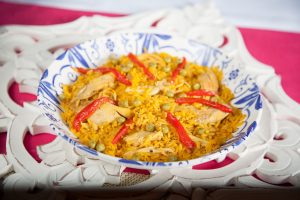 1 lb Marliss® Mojo Baked Chicken, cold and shredded
2 cups long grain rice
4 cups water
6 teaspoons Marliss® Yellow Rice Seasoning
2 Tablespoons Olive oil
---
Directions
Step 1

In a medium, heavy pot with a tight fitting lid, heat oil on medium heat.

Step 2

When oil has been heated, add shredded Marliss® Mojo Baked Chicken and cook for 2 minutes. Add rice (minced Onions, Red peppers, Cubanelle peppers, or any other choice minced vegetables you like.) Cook for 3-5 minutes, stirring frequently.

Step 3

Add water and Marliss® Yellow Rice Seasoning. Let water come to a boil, stirring no more than a couple of times.

Step 4

As the water boils down and just covers the top of the rice, turn the flame to low and cover.

Step 5

Cook for an additional 12-15 minutes or until rice is done to your liking.

Step 6

Remove from heat and let cool for an additional 5 minutes.
Enjoy!