A flavorful variation of a classic entrée, this favorite goes well with plantains or arroz amarillo.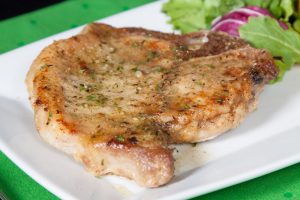 6-8 Pork Chops
1 Cup Water
6 Fresh Cloves of Garlic
½ Cup Marliss®  Soy Sauce
½ Cup Packed Brown Sugar
¼ Cup Ketchup
1 Fresh Scallion (Roots Removed)
3 tablespoons Marliss® Mojo Seasoning
---
Directions
Step 1

In a food processor combine all the marinade ingredients, except for the Pork Chops, garlic cloves and the scallion. Blend until well combined and smooth. Next add the garlic cloves and the scallion and blend for a few more seconds.

Step 2

Pour the marinade into a baking pan or a casserole dish. Add your Pork Chops, tossing with tongs several times to ensure they are coated completely. Cover the marinated Pork Chops with clear film. Let them sit at room temperature for no more than 2 hours. (Or for up to 24 hours in the refrigerator.)

Cooking Options

These Pork Chops are great on the grill and do well with a little char.

The Pork Chops can be baked at an extremely high temperature for a short time.

These Pork Chops can also be pan fried with a bit of oil in a cast iron skillet or a non-stick skillet. Remember to let the marinade drip off a bit so you do not have too much marinade on the Pork Chops when you begin to fry them.
Grill / Skillet
On the grill or in the skillet, use medium to high heat 3-4 minutes per side. Look for color or grill marks before you turn it over to the other side. Cook for a total of 6-8 minutes. (Remember a "little" char is fine.)

Make sure your Pork Chops reach an internal temperature of 145°.

Oven

You will need a baking rack set inside a foil lined sheet pan. Remember that the marinade contains sugars and sugars burn at high heat. Preheat the oven to 450°.
Once the oven has heated up, spray the rack with cooking spray or oil the rack with a paper towel soaked with the oil of your choice. Place the Pork Chops on the rack, making sure that they do not touch and certainly do not overlap. It is especially important that the heat reaches every part of the Pork Chops to ensure even cooking. Place the sheet pan on the top rack in the oven, close the door and turn the heat up to 500°. Allow to cook for 15 minutes. If within that 15 minutes, the Pork Chops have not yet reached a dark caramelization, at least on the edges, leave the door open. Turn the oven to broil. DO NOT leave the Pork Chops unattended at this point, they will burn quickly.

Remember to make sure the Pork Chops reach an internal temperature of 145°.
Enjoy your Marliss® Mojo Marinated Pork Chops with some Marliss® Arroz Amarillo and Mojo plantains.