Marliss® Florida Citrus Secret Chicken is a savory recipe with amazing flavors! The Marliss® Florida Citrus Secret Seasoning is the heart of this recipe. The brown butter sage takes it to a level of flavor that is sure to please every guest at your table and have them coming back for more! It goes well with Arroz Amarillo, Yucca Fries, or whichever Marliss® side recipe your family loves best!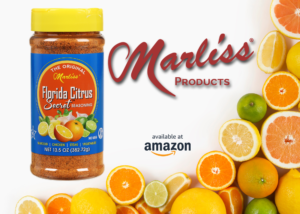 ---
Directions
Step 1
Start by seasoning your chicken with an abundance of Marliss® Florida Citrus Secret Seasoning. Be sure to season the entire chicken, letting it sit for least 4 hours prior to baking, in the fridge. Overnight is great, making a much more flavorful chicken.
Step 2
Remove chicken from fridge at least 1 hour prior to baking, so that you are not baking a cold chicken. Preheat oven to 400°F. Next, coat a sheet pan with oil. (We like EVOO).
Step 3
Place uncooked chicken on sheet pan and place in center of oven on middle rack. Cook for 30-40 minutes, until chicken reaches an internal temperature of 160°F and is a deep golden brown.
Step 4
While your chicken is baking, place butter in a medium sized skillet over medium heat. Let cook until the butter becomes amber in color and smells like almonds. Be careful not to burn the butter. Turn heat to low and skim off the foam from the browned butter. Next add sliced fresh sage. Continue to cook on low heat for 30 seconds and remove from heat.
Step 5
Remove chicken from oven & allow to rest for few minutes. Cut leg from thigh and set on top of some Marliss® yellow rice. Cover with brown butter and enjoy! The rich flavor of the brown butter and sage are a perfect complement to the fresh taste of the Marliss® Florida Citrus Secret Seasoning.