This delicious Marliss® Mojo Thanksgiving Turkey is the a new twist on a classic holiday meal!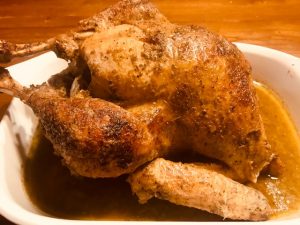 1 pound (4 Sticks) salted butter, at room temperature (Soft)
1 Tablespoon of each: thyme, Basil and tarragon
1 Teaspoon of each: marjoram and oregano
1 Turkey 16-18 pounds. (Brined if desired, rinsed and patted dry)
3 Bay leaves
1 large onion, halved
½ cup Marliss® Mojo Seasoning
---
Directions
Step 1

Preheat oven to 400°.

Step 2

Grind herbs well in a spice grinder, mortar and pestle or a processor.

Step 3

Combine the butter, Marliss® Mojo Seasoning and herb mixtures. Mix thoroughly.
Step 4
Place the turkey in a roasting pan. Using your fingers, loosen the skin from the body of the turkey. Be careful not to tear the skin. Work your hand underneath the skin to loosen, down to the thighs and legs. Spread the butter mixture underneath the skin into every nook and cranny. Afterwards, completely cover the outside of the turkey. Make sure to cover on top of the skin, spreading the butter evenly all over.

Step 5

Place the halved onion inside the cavity along with the Neck, Liver and Gizzard. (Save for the gravy) Next, tie the legs together using kitchen string and fold the wings under the turkey.

Step 6

Roast the turkey covered for 1½ hours basting every ½ hour. Then, with the foil removed, roast the turkey for an additional hour. (Do not discard foil.) Continue to baste every 20 -30 minutes, until a temperature of 160° has been reached. During the last hour be sure to keep up with the turkey basting. You do not want the skin browning too quickly. If necessary, recover the Turkey. Let Turkey cool for 20 minutes before carving.
Enjoy!